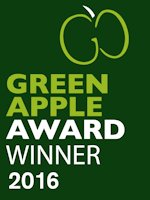 Gambit Communications Receives International Green Apple Award, Again!
MIMIC Simulator creating a greener Smart cities
Nashua, NH - August 18, 2016 -- Gambit Communications, a leading provider of network simulation tools, has Green won a Green Apple Environment Award in the international campaign to find the greenest companies, councils and communities. The Award was in recognition of Gambit's environmentally friendly product - MIMIC IoT Simulator, which simulates thousands of Internet of Things (IoT) sensors and devices in one machine.

Gambit competed against more than 500 other nominations in the Green Apple Awards for Environmental Best Practice, and they will be presented with their trophy and certificate at a glittering presentation ceremony in the Houses of Parliament, London on November 11, 2016. This is the seventh time that Gambit is honored with this award. Gambit is among the other winners from around the world, including UK, Philippines, Turkey, Dubai, Vietnam, Kenya, South Korea, Jordan, India, Canada, Sri Lanka, USA and Japan.

As a result of this success Gambit is invited to have its winning paper published in The Green Book, the leading international work of reference on environmental best practice, so that others around the world can follow its example and learn from the achievement.

Gambit will also be considered to represent the USA in the European Business Awards for the Environment.

The Green Apple Awards began in 1994 and have become established as the country's major recognition for environmental endeavour among companies, councils, communities and countries. The awards are organised by The Green Organisation, an international, independent, non-political, non-profit environment group dedicated to recognising, rewarding and promoting environmental best practice around the world. The Green Apple Awards are supported by the Environment Agency, the Chartered Institute of Environmental Health, the Chartered Institution for Wastes Management and other independent bodies.

"We are very proud to win this prestigious award again." said Uwe Zimmermann, president of Gambit Communications. "We are committed to the Green Organisation's environmental campaign of making the world greener by creating networking software in an environmentally responsible and sustainable manner. Our product, MIMIC Simulator, has been helping enterprises and networking vendors around the world decrease the carbon footprint, saving energy, and dramatically reduce the lab equipment along with the space needed. We are thrilled to have received the prestigious Green Apple Award in recognition of our efforts and it is wonderful to have this acknowledgment from The Green Organisation."

The use of MIMIC Simulator decreases the electricity requirements by 90 percent, reduces the current and future capital expense and removes the worry of recycling old electronic products or properly disposing of electronic waste such as lead and mercury. More information can be found at http://www.gambitcomm.com/site/support/inforeq.htm

National organizer Roger Wolens commented: "To show continued interest in environmental issues during the current financial climate shows great foresight and they deserve the recognition of being Green Apple Award winners."

About Gambit Communications, Inc.
Founded in 1995, Gambit Communications is a leader in network and SNMP simulation tools that enhance the productivity of management software developers and enterprise users while lowering their costs. MIMIC Simulator is a modular family of simulators used by leading networking vendors for use in applications from development and testing to operator training and disaster simulations. Gambit Communications' portfolio of over 1,000 customers around the world includes: IBM, CA, JP Morgan, VISA, Shell, US Army, US Air Force, Cisco, Apple, Starbucks, AT&T, Nokia. For more information on Gambit and MIMIC, please visit www.gambitcommunications.com .
About MIMIC Simulator MIMIC provides an inexpensive way for enterprises, device vendors, management and software developers to evaluate, test, demo, develop, train and certify management applications without purchasing equipment and maintaining labs for those functions. MIMIC has the ability to simulate up to 100,000 devices from one workstation. MIMIC includes user-friendly wizards for importing new MIBs, recording large networks, creating device simulations and network topologies, and provides full support for SNMP(v1, v2, v3), IPv6, NetFlow, IPMI, DHCP, TFTP, Web (SOAP, REST/XML), RMON(1, 2) as well as Telnet, Cisco IOS, Juniper JUNOS and TL/1.
# # #
© 2016 Gambit Communications, Inc. All Rights Reserved.
MIMIC and Gambit Communications are registered trademarks of Gambit Communications, Inc.
All other trademarks or service marks are the property of their respective owners.