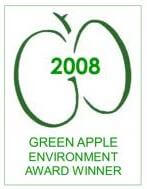 Gambit Communications receives International Green Apple Award - GOLD Winner
MIMIC Simulator Decreases Electricity Requirements By 90 Percent
Nashua, NH - November 18, 2008 -- Gambit Communications, a leading provider of network simulation tools, has been announced as a GOLD winner of the prestigious International Green Apple Award for Environmental best practice. The Award was in recognition of Gambit's environmentally friendly product - MIMIC Simulator - Virtual Green Lab.

The trophy was presented by The Green Organisation at the annual international awards ceremony at the House of Commons, London on Monday, November 10th.

The Green Apple Awards are presented annually in recognition of companies, councils and communities carrying out projects that are environmentally friendly; there were 500 nominations this year. Past winners include Public Service Company of New Hampshire and Jaguar Cars.

The judges at the Green Organisation commented: "Gambit have created a software solution to a hardware problem, creating impressive savings in costs, power and materials. Data handling firms are continually having to update and expand to meet the ever changing IT landscape, MIMIC has expansion designed in and allows existing technology to easily carry out the expanding roles demanded of it, in simple terms this equates to bottom line savings of 90 percent."

The award-winning MIMIC Simulator product will be featured in the next Green Book, the world's only work of reference on environmental best practices, and it will also receive a Green Hero Wall Shield award during a special prize ceremony on board the Royal Yacht Britannia, Edinburgh, in February.

"We are absolutely delighted to have achieved this prestigious international award," said Uwe Zimmermann, president of Gambit Communications. "We are committed to create networking software in an environmentally responsible and sustainable manner. Our product, MIMIC Simulator, has been helping companies decrease the carbon footprint, saving energy, and dramatically reduce the IT equipment and space needed. We are very proud to have received the Green Apple Award in recognition of our efforts and it is wonderful to have this acknowledgment from The Green Organisation."

The use of MIMIC Simulator decreases the electricity requirements by 90 percent, reduces the current and future capital expense and removes the worry of recycling old electronic products or properly disposing of electronic waste such as lead and mercury. More information can be found at http://www.gambitcomm.com/site/support/inforeq.htm

The Green Apple Awards campaign is run by The Green Organisation, an independent, non-political, non-profit organisation that recognizes, rewards and promotes environmental best practice around the world. Campaign Manager Mark Wolens commented: "To show continued interest in environmental issues during the current financial climate shows great foresight and they deserve the recognition of being Green Apple Award winners. They invest in a better future for us all and deserve to be recognized for their efforts."

About Gambit Communications, Inc.
Founded in 1995, Gambit Communications is a leader in network and SNMP simulation tools that enhance the productivity of management software developers and enterprise users while lowering their costs. MIMIC Simulator is a modular family of simulators used by leading networking vendors for use in applications from development and testing to operator training and disaster simulations. Gambit Communications' portfolio of over 500 customers includes: IBM, JP Morgan, VISA, Shell, US Army, US Air Force, CA, HP, Cisco, Intel, AT&T, MCI, Nortel, For more information on Gambit and MIMIC, please visit www.gambitcommunications.com .
About MIMIC Simulator
MIMIC provides an inexpensive way for enterprises, device vendors, management and software developers to evaluate, test, demo, develop, train and certify management applications without purchasing equipment and maintaining labs for those functions. MIMIC has the ability to simulate up to 20,000 devices from one workstation. MIMIC simulations can be distributed over multiple platforms for enterprise simulation testing of even larger environments. MIMIC includes user-friendly wizards for importing new MIBs, recording large networks, creating device simulations and network topologies, and provides full support for SNMP(v1, v2, v3), IPv6, IPMI, DHCP, TFTP, RMON(1, 2) as well as Telnet/Cisco IOS.
# # #
© 2008 Gambit Communications, Inc. All Rights Reserved.
MIMIC and Gambit Communications are registered trademarks of Gambit Communications, Inc.
All other trademarks or service marks are the property of their respective owners.