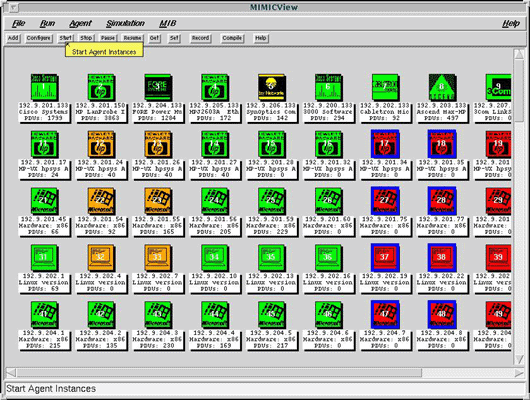 MIMIC SNMP Agent Simulator creates a network of up to 100,000 SNMP-manageable devices. You can create any SNMP-based device with any number of public or private MIBs to run a large variety of device configurations with your SNMP management application. It lets you generate thousands of traps to simulate disaster scenarios.
Working with IBM, Gambit continues to leverage technologies that are innovative. Recently IBM announced a new class of expert integrated systems - IBM PureSystems. IBM PureSystems combine the flexibility of a general purpose system, elasticity of cloud and the simplicity of an appliance tuned to a workload -- fundamentally changing the experience and economics of IT.
MIMIC SNMP Simulator is enabled on IBM PureFlex System, one of the offerings in the PureSystems family. The IBM PureFlex System includes integrated <93>patterns of expertise<94> designed to automate and optimize the deployment and maintenance of MIMIC SNMP Simulator workloads. Deployment expertise can accelerate your time to value up to 100 times versus traditional systems. Consolidation and management expertise drives automation to significantly reduce manual processes that consumes too many staff hours. Optimization expertise also allows the infrastructure to flex to unexpected demands without requiring expensive surplus capacity. This system is designed to provide a simplified experience and reduce IT complexity without compromising flexibility.
With MIMIC SNMP Simulator enabled on IBM PureSystems, you will be able to focus on driving innovation for your business, instead of devising, testing and tuning custom integration solutions.
MIMIC SNMP Simulator virtual appliance pattern for IBM PureFlex System will soon be available for download. Please call 603-889-5100 or email sales@gambitcomm.com for more details.